Provide peace of mind to homeowners living in your communities. Receive detailed visitor and vendor tracking, manage access permissions, and – as part of the FRONTSTEPS suite – keep your directory current without lifting a finger.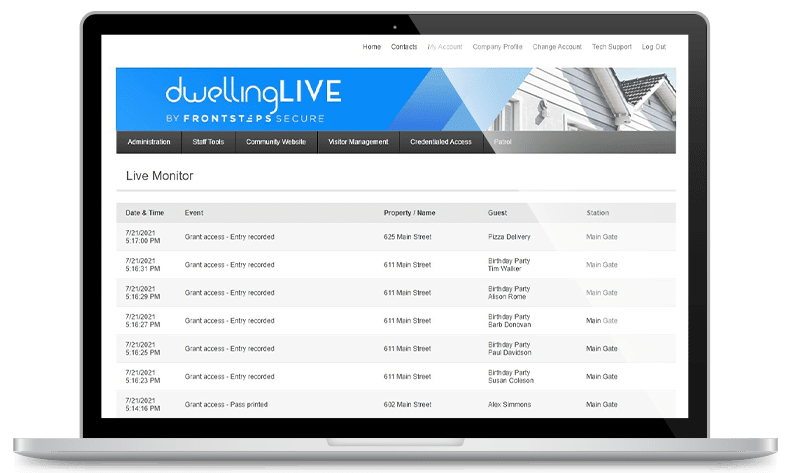 Guest & Homeowner Data
Management
Automatically capture and store the license plate number of incoming vehicles for use in investigation and analysis, as well as the ability to share with law enforcement in the case of legal issues.
Create an approved vendor list for residents to choose from, and allow the vendor access to their profile to manage their customers relationships within the community.
Manage property and resident data, and establish rules for what the residents can manage themselves.
Control parking at events and facilities. Users can drop off their vehicles and request pickup from the portal.
FRONTSTEPS Is Your All-In-One Solution. Our Integrated Platforms Allow Management Teams To Excel Daily, While Pushing For Greater Productivity And Profitability. Our Completely Integrated Accounting Software Enables Your Team To View Everything In One Place.
Create and manage temporary, permanent, restricted, and party guest access to the community: length of stay, daily schedule, guest types, paper, or electronic pass issuance.
Homeowners can access passcodes for pickup or the concierge to validate. Managers also have access to view packages per unit, homeowner, time received, and the time the homeowner picked up the package.
Allow your homeowners the ability to choose a phone number that will be synced to your Doorking unit, giving guests the ability to call the homeowner to gain access to the community.
Create custom pass types to establish different types of guests and rules to manage each guest type individually.
Live Monitoring and Reporting
See guest entry activity in real-time in the Live Monitor and generate historical reporting for all guests being added to your community and when they have come in through the gates.
Receiving deliveries will notify homeowners that there is a package to be picked up. Track the package from arrival to delivery.
Description: View notification settings for various events that will trigger an email or text message to the end-user.
Set up and view move in and move out details for homeowners to know when a property is occupied.
Our security solution integrates with an extensive range of hardware options from leading manufacturers. Contact our team to explore compatibility with your current or planned equipment.
Give your homeowners the freedom to make payments at their convenience while saving your management team time and money. Learn more by connecting with a FRONTSTEPS representative today.