We're passionate about powering safe, informed, and efficient communities.
The modern community demands guidance and care. Our powerful software provides communities with peace of mind through integrated security solutions, instant access to a streamlined community resource hub, and management tasks simplified in one place. We're driven to succeed with an incredible team and strong leadership.
Develop our people
|

Take care of the customer at all times
Move with purpose & urgency

|

Be open, honest, & transparent
Innovate & fail forward

|

Be courageous
Develop our people
|


Take care of the customer at all times

|


Move with purpose & urgency

|


Be open, honest, & transparent

|


Innovate & fail forward

|


Be courageous

|
I love to connect the dots between employees, teams, products and customers in order to grow careers and produce significant shareholder value. We're at the FRONTSTEPS of an amazing journey in doing just that!
I'm an entrepreneurial product management and strategy leader who obsesses about competitive differentiation. At FRONTSTEPS, I'm excited to transform our market and create world class products that are powered by emerging technologies.
I strive to deliver value to all our stakeholders through operations excellence, including the delivery of best-in-class products and services. I do that by putting the success of our customers front and center in their quest to serve their communities.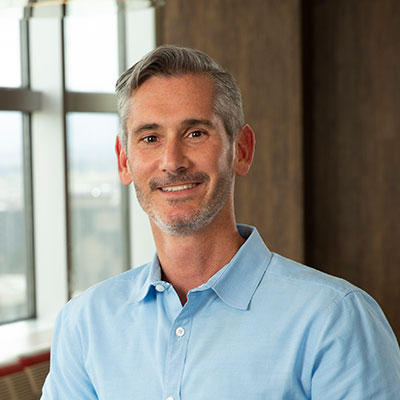 I believe in building strong, diverse teams that collaborate with our internal team to build solutions. I encourage them to build solid processes and leverage technology to deliver an excellent experience to our customers.
I strive to maximize the return on investment and build reliable and stable software platforms. I organize effective teams and work to deliver the best user experience to our customers.
Chris Baker is the Chief Sales Officer at FRONTSTEPS. Chris has been in sales his entire professional career and has worked in the SaaS space with an emphasis on property management software for seven years.
VP of Business Operations
The customer is our top priority at FRONTSTEPS. As a leader, I am here to ensure that our customers needs and wants are always met with high quality customer service and care. Every customer should feel as excited and fulfilled as the day they chose FRONTSTEPS to be their service provider.
I am an operationally focused financial leader with a solid knowledge of GAAP and SaaS revenue recognition. I strive to consistently produce accurate financials and identify weakness areas for developing and implementing effective controls. I take a collaborative approach to team-building and have an accomplished track record of high performance transforming into increased shareholder value.
iHomefinder General Manager
I'm a results-oriented leader with a background in Software as a Service (SaaS) product strategy and marketing. I'm focused on delivering an excellent customer experience with innovative software solutions, high-quality customer service and collaborative relationships.
I'm passionate about building great brands by uncovering and delivering on unmet customer needs. FRONTSTEPS represents the next generation of association management software, and I'm excited about creating better experiences for management companies, boards, and homeowners.
I could nominate Casey for multiple value awards…this one seems most fitting.  I have worked with Casey for over 2 years, and every interaction has been…Open, Honest, and Transparent. 

Casey Harris
Sheik is a go-to encyclopedia for the team with regards to everything FRONTSTEPS. Whether you're having trouble finding something or forget how a process is done, you can always count on Sheik.
Sheik Shrikantia
Karla swiftly recognized an opportunity to put more information in the hands of her teammates and immediately began sharing links to the location where it was being stored.

Karla Nascimiento
Scott stepped up to facilitate a Microlearning session on the EX Committee. He volunteered to get his name and his face out across the company by leading a quick training that he didn't know anything about just 2 short weeks ago.
Scott McElrath
Dana is always dedicated to delivering the best customer experience. She goes above and beyond making sure the client taken care of. If she runs into a roadblock, she uses her resources to find a solution.
Dana Segal
Ready to grow and streamline your communities? Connect with a FRONTSTEPS representative today, and discover the difference our technology can make.